Big plans are in the works for TMOM Convention 2015 – April 16-19 – in Amarillo.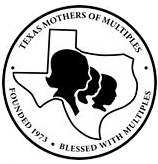 Many of you have been to at least one state convention, but there are several of you who are new or you haven't had the chance to attend a Texas Mothers of Multiples Convention. This year is exciting because Amarillo Area Mothers of Multiples members have the opportunity to attend convention and work at convention.
Amarillo Area Mothers of Multiples is a founding member of Texas Mothers of Multiples, and we're thrilled to host our fourth TMOM Convention – the 42nd annual event.
A little bit about TMOM and Convention:
Texas Mothers of Multiples group meets twice a year. The group meets in April for the annual convention. This is a combination of activities, meals, workshops, business, friendship and fellowship. September is the mid-term meeting where the officers meet for a business meeting. Each convention is held in a different Texas city hosted by a local club. I have been very active with the state organization since my very first convention. I'm not sure why I felt the need to be a leader in the state organization, other than I like to be in charge! However, my involvement has led me to have many leadership opportunities, meet women I might have never known and form friendships with some amazing people. There are many others in our local group who attend convention regularly who aren't involved in the political part of TMOM, but would never miss the opportunity to see the ladies from all over the state with which they have formed friendships. It's also a great opportunity to spend quality time with our own members and a time for us to bond as well. I hope each of you is making plans to attend TMOM Still Rockin' n Rollin' in Amarillo. You will have a great time!!
That being said, we will need EVERYONE to help at convention. It's OK if you can't work on a committee at this time, but please put April 16 to April 19 on your calendar. We will need ladies to work registration, decorate before meals, take tickets at events, entertain on the busses, help in the hospitality room, and possibly be in charge of an event. Hosting a convention is a lot of work and takes a lot of
manpower to make it happen, but it can also be A LOT of fun. Some of my best convention memories are the ones where we were the hostesses.
We want you to be involved and enjoy yourself as well. This means we want you to go to the activities such as the Welcome Party and late night event. There will be the Friday night off site event that you won't want to miss! The business meeting can be a bit dry, but I always encourage first time attendees to come be a part so you better understand what TMOM is about. You'll want to be at the Saturday evening
banquet, too. If you are a convention "first-timer," you won't want to miss the founder, Bette Ade's meeting.
As decisions are made, we will keep you informed. If you have an idea, please let Terri or me know. I owe a HUGE thank you to all of you who have been coming to convention meetings, volunteered to chair a committee and who've helped with decorations. We've got a lot of work to still do, but I want you to know I appreciate all of your work.
Stay Abreast of Convention News
Shelli Jones
AAMOM President